---
Wondering how often to replace your car battery? Most car batteries last an average of 4-5 years, although the lifespan can vary depending on the quality of the battery you've chosen, along with other factors. As always, you can check your owner's manual for details. Explore the ins and outs of car battery service with Volkswagen of Salem County, and get all of your questions answered today!
How to Know If Your Car Battery Needs to Be Replaced
Even if you're nowhere near the 4-5 year mark, you might be due for a replacement. It only takes a second to learn how to know if your car battery needs to be replaced.
Here's what you need to watch out for:
Are your headlights dimmer than they used to be?
Have you been requiring more frequent jump starts?
Is it taking a long time for the engine to turn over?
Are you experiencing unusual power fluctuations?
If you answered yes to any of these questions, you probably need a new car battery. Still, it's a good idea to test it first, and make sure that's where the problem really lies.
How to Test a Car Battery
Our service center will test your car battery as part of your regular VW maintenance schedule. Still, if you're not due for an appointment, and you'd like to save a little money, the process is far from complex.
Here's how to test a car battery at home:
Test a Car Battery Using Your Headlights
Turn the engine on but leave the car in park. Turn your headlights on too.
Rev the engine. Check to see if the lights get brighter while you do so.
If the headlights do increase in brightness, that means the battery is nearing the end of its life: It isn't strong enough to power the headlights without the help of the alternator.
Test a Car Battery Using a Digital Multimeter:
Pick up a voltmeter at our parts department.
Change the setting to 20 DC volts.
Locate the (black) negative meter probe on your voltmeter. Touch it to the negative pole on your battery.
Do the same with the positive (red) probe and positive terminal.
Have a friend turn on the headlights. Then check the voltmeter reading.
At 80℉, your battery should be putting out a reading of 12.5 volts (at a full charge) or 12.3 volts, at a 75% charge. If it's reading at 11.8 volts or lower, you're probably due for a change.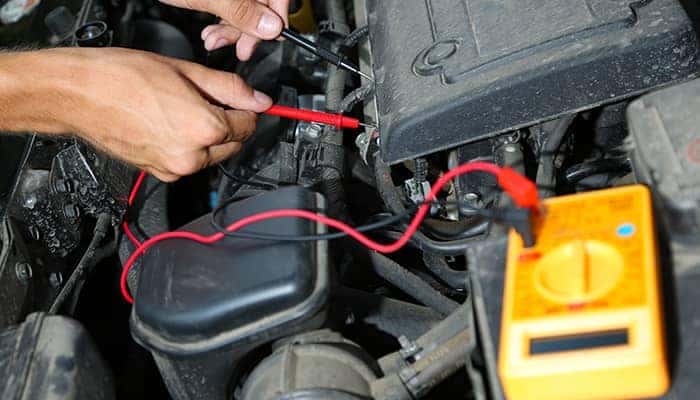 How Often to Replace a Car Battery: What Causes Deterioration?
Heat/Cold: Especially hot weather can cause the liquids in your battery to evaporate. The cold winters in Millville and Washington Township can also cause a weak battery to die.
Vibrations: Securing your battery can help to extend its lifespan. A battery that spends a lot of time shaking or vibrating will tend to wear down more quickly.
Needing a Jump: If you've let your battery die, and you need a jump start, the total lifespan of your battery is likely to decrease.
Time: All batteries die out over time. There's no way around it: You need to know how often to replace a car battery.
How Much is a Replacement Car Battery?
Since car batteries can vary in quality, they're available at a pretty wide range of prices. Most cost between $75 and $120, while others can cost up to $200. If you choose to protect your investment with an extended service contract, you may be able to save big on your next car battery.
The lithium ion batteries which power most hybrid vehicles can be significantly more expensive. If your hybrid battery is dying and you're not covered by a warranty, you can expect to pay between $1,000 and $6,000.
Turn to Volkswagen of Salem County for Battery Service!
When you're in need of a new battery, you can find the perfect component at our easy-to-reach parts department, just a short drive from Vineland! Just make sure to check out our rotating parts and service specials before you visit!