The 2019 Volkswagen Jetta Interior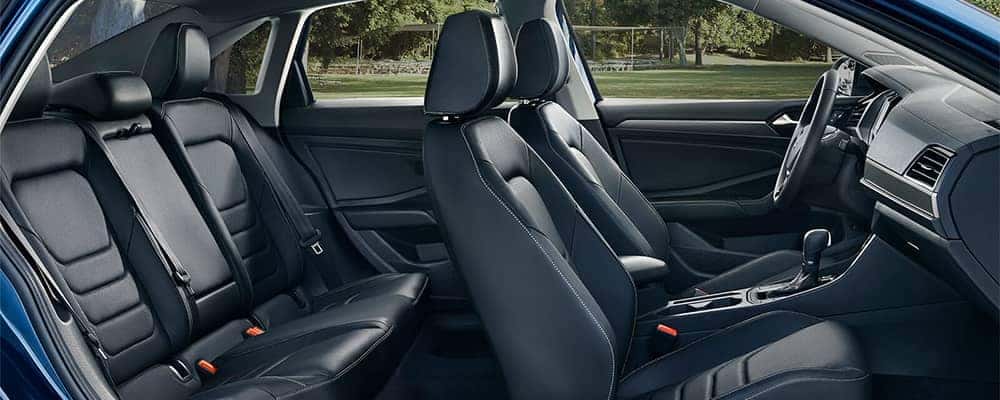 The 2019 Volkswagen Jetta interior is jammed packed with all kinds of cool features, like the Digital Cockpit, leather-wrapped steering wheel, keyless access, remote start, and more. Fortunately, you can find the Volkswagen Jetta for sale or lease at Volkswagen of Salem County in Monroeville. You're welcome to come in for a test drive. In the meantime, here are some of the features that are available.
Two-Tone V-Tex Leatherette Seats
Who says you have to choose between being comfortable and looking good? The Titan Black bolsters on these seats are stylishly complemented by the Storm Grey inserts. And customers who come to our dealership near Vineland often remark how they love the leather feel of the seats in the Volkswagen Jetta.
Volkswagen Digital Cockpit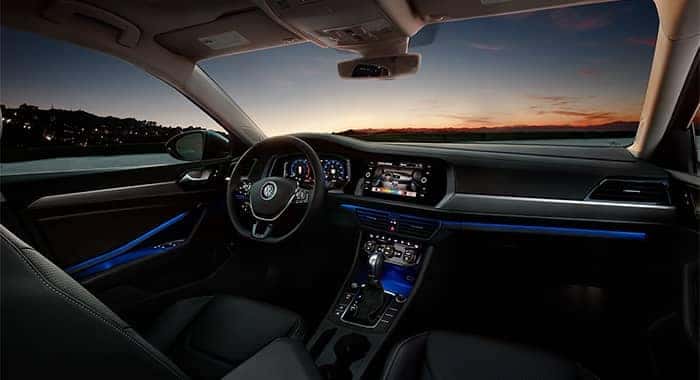 There are so many displays to look at in most newer vehicles, between the speedometer, fuel gauge, stereo, the GPS, and more. The 2019 Volkswagen Jetta puts all of that on one 10-inch display screen situated right in front of the steering wheel when you choose the Volkswagen Digital Cockpit. You can even control from the steering wheel which displays you want to see.
Heated and Ventilated Front Seats
The weather goes from one extreme to the other in the Washington Township area. But the 2019 Volkswagen Jetta interior is designed to keep you comfortable, no matter what it's like outside. The front seats can be ventilated in order to keep you cool during those hot summer days. But they can also heated to keep you warm in the winter.
VW Car-Net® Security & Service
We've all come out of the store after an enjoyable afternoon of shopping only to realize we forgot where we parked the car. The same goes for walking into the store, then realizing you can't remember if you locked your car. The VW Car-Net Security & Service available on the 2019 VW Jetta can help with all of that.
Find the 2019 Volkswagen Jetta for Sale at Volkswagen of Salem County
The helpful folks at Volkswagen of Salem County near Millville will be glad to walk you through all of the available 2019 Volkswagen Jetta interior features. You can apply for financing as well. And if you're not looking to buy, ask us about our Volkswagen Jetta lease options. Stop in or contact us today. We also have details on the performance of the Jetta GLI.
More From Volkswagen of Salem County